Autobiography Writing Services: Tailored Packages for Every Story
Writing an autobiography must be a dream for many people. And it's not hard to see why. Isn't it amazing to inspire others with your life story? An autobiography is not just a book but a reflection of your memories, experience, struggles, achievements, heartbreaks, and so on.
If you're thinking of writing one but don't know how to get started, you don't have to worry any longer. Here, we have a great solution for you.
Here, we have a great autobiography writing service for you that can help you to write your journey in an easy way.
What Is the Best Way to Write an Autobiography
To be honest, no one can write about you better than yourself. Writing an autobiography may seem daunting, and that's where autobiography writing services come in. Many people use ghostwriters to write for them, but it has its pros and cons.
The biggest disadvantage of using ghostwriters to write your autobiography is the lack of a personal touch. Not only that, but you also lose ownership and control, leading to dissatisfaction and privacy issues. After all, it's your personal life.
Now, the argument is, what could be the best way to do it? Well, you need something that not only maintains your privacy but also helps you to write in a creative way. To do so, you don't have to hire any ghostwriter for it. We have a great autobiography writing tool that can solve all your problems in no time.
Using an autobiography writing tool is the best way to write your autobiography.
Benefits Of Our Autobiography Writing Tool
Structure and Guidance
This tool provides a fully structured template for front covers, back covers, dedication pages, table of contents, and various chapters of your life. It streamlines the writing process and eliminates the need to start from scratch.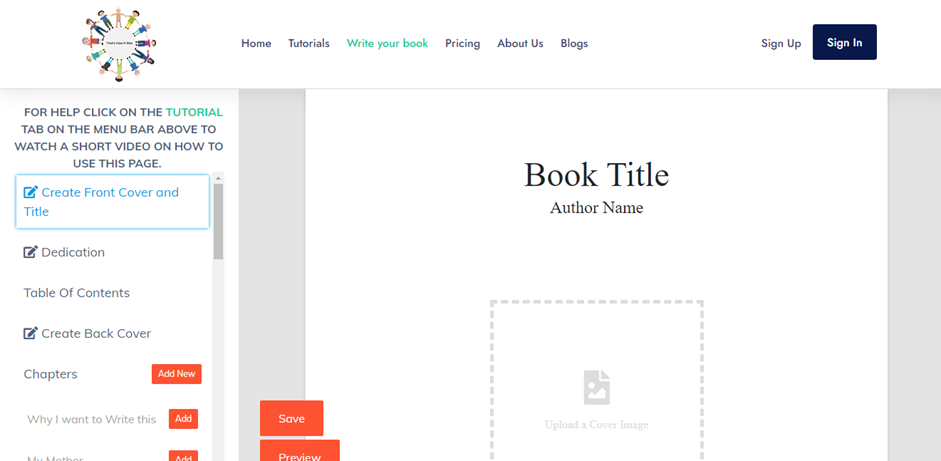 Time-Saving
Writing an autobiography is a time-consuming task, especially if you don't have prior writing experience. Our autobiography writing service can save you time by offering pre-designed templates, prompts, and examples that you can use as a starting point.
Privacy and Control
Unlike hiring a ghostwriter, using an autobiography writing tool allows you to maintain complete privacy and control over your story. You don't have to share personal details with a third party, and you can decide what to include or exclude from your autobiography.
Cost-Effective
Hiring a professional ghostwriter can be quite expensive. In contrast, our autobiography writing tool offers an affordable alternative. You can access the tool at your convenience without incurring significant expenses. What's even more amazing is that this DIY tool is totally free to use.
Also, there is no page and project limit in our tool. It means you can create multiple writing projects without any credit limit.
Personal Touch
While an autobiography writing tool provides structure and assistance, it still allows you to infuse your unique voice and personal touch into your story. You are free to express yourself, and you can share your experiences in a way that you want.
How To Use This Autobiography Writing Tool
Using this autobiography tool is as easy as a pie. We have designed this tool with simplicity in mind for making it much user-friendly and easy to use. All you need to do is follow these 5 simple steps to get started:
Step 1: Go to our website and click on the sign-up button to create an account. Fill in all the required details, including your name and email address, and choose a strong password.
Step 2: After registering your account, you'll be directed to the dashboard where you can keep track of all the books you have written so far.
Step 3: Go to the "My Books" bar to create your book.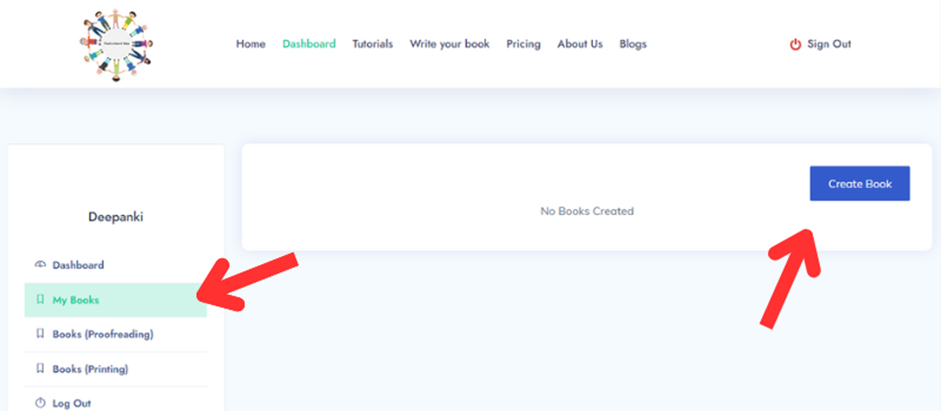 Step 4: A complete template will appear on your screen. You can edit the template and start writing your book. It includes:
Front Cover:

Choose a book title, author name, and a cover image.

Dedication:

In this section, you can write the purpose of your book, why you're writing it, whom you're dedicating it to, what inspired you, or anything you want to deliver to your audience.

Table of Contents:

The tool automatically generates a table of contents, which is crucial for any written content as it helps readers navigate the book.

Chapters:

This section allows you to easily edit, add, or delete chapters of your life. It helps you create a well-organized biography.

Back Cover:

Upload an image that resonates with the ending of your story. You can also write a final message.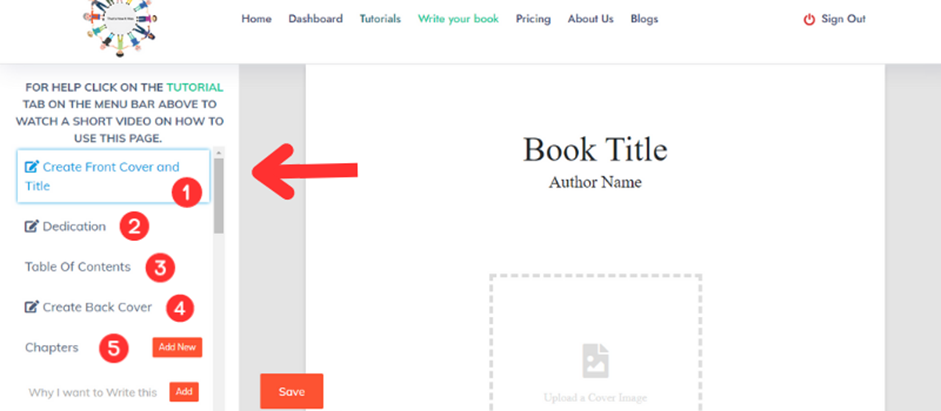 Step 5: Once you've finished writing for the day, simply save and preview your book, and continue in the next session.
Frequently Asked Questions
Who can use this tool?
Anyone can use this tool as it's available for all.
Is this tool safe?
Yes, this tool is completely safe to use. According to our privacy policy, we do not share your data with any third party.
How much does it cost for someone to write your autobiography?
Usually, all good autobiography writing services charge around $8,000 to $10,000 to write for their customers. If you're looking for an affordable option, you can try our in-house autobiography writing tool for free.
How can I eliminate mistakes from my book?
You can hire professional writers to proofread your autobiography. However, there are any AI proofreading tools available in the market but the quality and accuracy still not guaranteed.
How many pages is a good autobiography?
You need to write at least 250 pages for your autobiography.
Bottom Line
Writing your autobiography is a remarkable journey, and our autobiography writing tool is here to assist you every step of the way.
With its structured templates, editing and proofreading assistance, privacy and control, cost-effectiveness, and the ability to add your personal touch, you can bring your life story to life. Start using our tool today and inspire others with your unique experiences and wisdom.
To back you up, we have an in-house editing and proofreading service with powerful editors, starting at just $3. We double-check your content and suggest improvements in sentence structure to ensure that your writing is polished and professional.